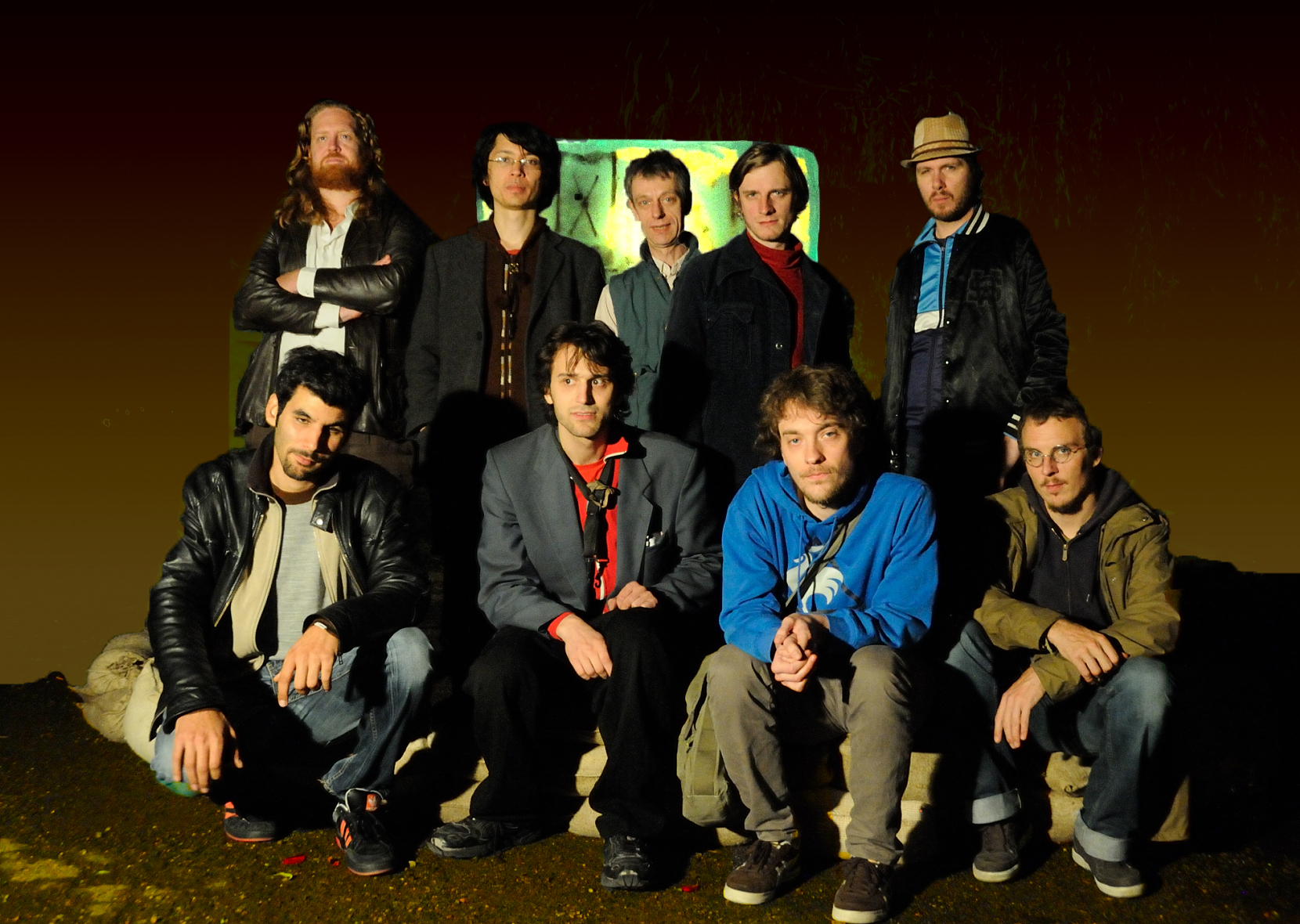 Johannes Schleiermacher - ts
Oliver Roth - fl
Jens Kristian Bang - tb
Daniel Glatzel - ts, bcl, cl
JJ Whitefield - gui
Kalle Zeier - gui
Thomas Myland - keys
Wolfram Blechner - perc
Bernd Oezsevim - dr
Woima Collective follow up their first album with their Frou Frou Rokko LP, and delve even further into the African rhythms that inspire them. Building on the ground work that Woima Collective's debut LP Tezeta laid down, this collection of tracks goes even deeper to exploring the interlocking cross­rhythms that abound on the African continent. That's not just a figure of speech: many of the songs were composed while band leader Johannes Schleiermacher traveled Africa over three months last year. Passing through Morocco, Mali, and Senegal, Johannes discovered many new grooves and dance moves on his journey, which have all played their part in the developing Woima sound. The title Frou Frou Rokko comes from Johannes' Bamako base, a friendly community house. "The people are very hospitable, and because I came as a musician, I had a very good connection with them. Then when I played with them, it just got better. They were really happy when I adapted to their style, and they loved it when I caught some phrases of theirs!" Johannes explored new rhythms as he went, using them as inspiration to create his own grooves. "For me, the groove's the most important thing," he insists. "Melodies are always pushing the tracks forward, but the groove is what gets you in the mood! The music in Mali often has no climax, it can go on for a very long time, repeating yet it doesn't get boring. It's a different approach to what we might be used to in Europe. I think you can hear those longer, more hypnotic influences on this record." Some of the tracks are dedicated to specific events, like the song that Johannes wrote while he was dosed­up on Malaria medicine, or Brain Clear Heart, about the incurable romantic he met on the border to Senegal, who dreamt of all cultures around the world playing music together. The line­up is almost exactly the same as the previous album, with a couple of extra guests for good measure. Also the band had some time to play around with the new material before recording at Berlin's Lovelight facility ­ a luxury they weren't afforded on the first LP. Combine this extra testing time with the fact that the band have settled into their own skin, and the result is a lot more open, with longer solos and improvised passages. Upfront, yet stretched out, Woima Collective have put another twist on their modern day african­influenced ensemble, and dive even further into their own sound.
Frou Frou Rokko
will be released on march 24th 2014 on kindred spirits
Listen to a mix of tracks from the new Record Frou Frou Rokko
Check out the new video of the Woima Collective at the Hamburg Ueberjazz Festival
11.4.2014 - Badehaus Berlin
16.4.2014 - Unterdeck München
17.4.2014 - Astra Kulturhaus Rosenheim
19.4.2014 - Kaserne Basel
10.5.2014 - Achtbrücken Festival Köln
past Concerts: Berlin Lovelite, Hamburg Elektrohaus, Amsterdam Paradiso, Kortrijk De Kreun, North Sea Jazz Festival, Pudel Club Hamburg, Nu Moon Fest Rotterdam (with Tony Allen), Manga Museum Krakau, Recycle Art Bruxeeles, Tharandt Panoptikum, Zittau Mandau Jazzfestival, Aarhus Atlas, Copenhagen Globäl, Hamburg Überjazz Festival


Note that not the band nor the developer of the homepage are responsible for the contents of linked websites!